Riverdale is that strange TV-series that you can't stop watching even though there are weird things. A lot of them. Too many.
"This story is about a town, forever changed by the mysterious murder of Jason Blossom". In fact, the first season of Riverdale deals with a crime, the savage homicide of the young, rich and popular Jason Blossom (Trevor Stines), and with the investigations led by some high-school students. As usual, terrible, hidden secrets will be revealed.
Pros: Riverdale is based on suspense and all the episodes are so well constructed that it makes you want to watch all the TV-series to discover what happened. Actually, I think that's the only good reason I keep watching it.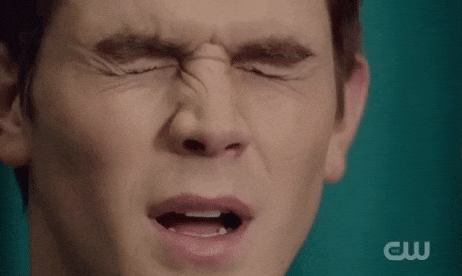 Cons: The characters, all of them, are the strangest I've ever seen, stuck in their frames. Betty (Lili Reinhart) is the perfect "pastel" daughter and student, Veronica (Camila Mendes) the fashionable city girl, always wearing classy, black clothes, Cheryl (Madelaine Petsch), the red-hair manipulative popular girl, Archie (KJ Apa) the good, naive guy who always tries to do the right things, while Jughead (Cole Sprouse) is the typical outsider. In addition to it, all these young boys and girls are good students, good singers or/and good dancers or talented writers: so damn perfect! The flatness of these characters makes Riverdale looks strange, fake; even the cinematography is conventional, as it's supposed to be, as it should be. Riverdale turns to be something you can watch, even like, but not something you can be really into it. In a strange way, it could be even fascinating.
Still, I guess I'll watch also the second season of Riverdale, but let's hope not to find supernatural elements in it. It's so strange on its own!
P.S. C'mon Jughead, goes to dark side and shake this TV-series. I'd be happy to see Ross Butler again; I'd prefer in the next season of 13 Reasons Why, though.